It's a tough time to be a DC movie. In the inevitable upheaval involved in the changing of guards, several projects fell by the wayside, greatly underperformed, or, in the case of Batgirl, abruptly stopped production. Many of those decisions came before current co-CEOs James Gunn and Peter Safran took over. Still, with the exception of The Flash and the Aquaman sequel, not many other projects seem certain. That is, of course, with the exception of Blue Beetle. The project began as an HBO Max exclusive movie and got an upgrade to theatrical, in IMAX, no less! Not only that, but James Gunn confirmed that although Blue Beetle is not a full DCU movie, Blue Beetle, the character, is the first DCU character.
Here's the first trailer for Blue Beetle, hitting theaters in August.
While a character called Blue Beetle has existed for decades, this iteration—young Jaime Reyes—didn't appear until 2006. In that relatively short span of time, Jaime has become a standout favorite for comics fans. The movie will, as you might expect, take elements from several different comic runs of the character. As we see at the beginning of the trailer, Jaime (Xolo Maridueña) is a young man working at a resort in the fictional Palmera City. On a fateful day, his friend gives him a carton from Belly Burger containing an alien scarab. Presto chango, the Scarab fuses to Jaime (in a rather Cronenbergian scene) and he's got a Blue Beetle suit.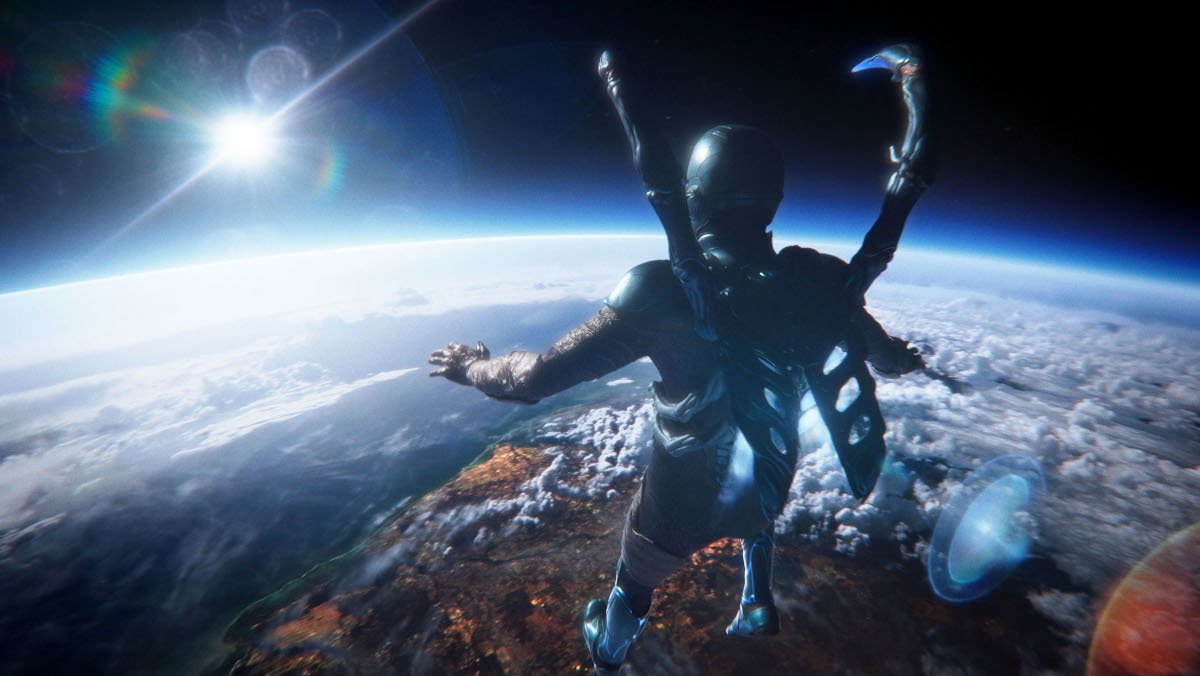 One fun aspect of the character in the movie is that he definitely does not have a secret identity, as such. His family, including George Lopez as his uncle, see his first transformation. He's like the anti-Spider-Man. Everyone he loves knows his secret to begin with. Also, his uncle thinks Batman is a fascist, which is very funny.
We don't get a huge sense of the larger story of the movie aside from Susan Sarandon wanting the device for herself. The film's IMDb lists her as Victoria Kord, a character who only first appeared in this current "Graduation Day" comics arc. Ted Kord, of course, is the first Blue Beetle from back in comics' past.
We also recently learned that Harvey Guillén's character works for Sarandon's Kord, playing a doctor torn between his loyalties to his profession and to being a good person.
The synopsis for Blue Beetle is as follows:
Recent college grad Jaime Reyes returns home full of aspirations for his future, only to find that home is not quite as he left it. As he searches to find his purpose in the world, fate intervenes when Jaime unexpectedly finds himself in possession of an ancient relic of alien biotechnology: the Scarab. When the Scarab suddenly chooses Jaime to be its symbiotic host, he is bestowed with an incredible suit of armor capable of extraordinary and unpredictable powers, forever changing his destiny as he becomes the Super Hero BLUE BEETLE.
And we won't have long to wait to see it on very large screens. Blue Beetle, directed by Angel Manuel Soto, will hit theaters and IMAX August 18, 2023.
Originally published on April 3, 2023.
Kyle Anderson is the Senior Editor for Nerdist. You can find his film and TV reviews here. Follow him on Instagram and Letterboxd.